Last fall, I wrote this post for the now defunct and re-purposed Gaston Digital blog. As I was thinking about what tools help me quickly find resources, especially as we get ready for a new school year, Google Reader is the what came to mind. So I'm stealing (from myself) this to share with you here! At the end of this post, I'll share some of the ideas I've seen for back to school and some of my favorite blogs to follow!
As I was collaborating with a few of my teachers earlier this week, one of them asked me a question I thought was quite interesting. The teachers were 1st grade teachers from one of my schools and we were meeting to discuss, find, and create lessons and activities for them to use on the SMART Boards they will all soon have in their classrooms (Yay for generosity from private donors!) I was teaching them about
Diigo
so that they could begin compiling all the interactive sites they were finding, and after everyone signed up for Diigo I shared with them one of my
Diigo lists for SMART Resources
. Of course since there was a SMART Board in the room, I had to spend lots of time playing, so I was showcasing some of my favorite activities to use for
teaching math
using SMART Boards (and why do they all have to be from the UK? come on, US we need to get on the ball!). So getting back to my point- the question that was asked as we were looking at all these resources was
"Gosh Leslie, do you go home and sit with your computer all night to find all this stuff?"
Okay, well honestly I used to practically have my laptop attached as an extra appendage all the time. These days I'm not quite as bad when I get home, and I've realized that sometimes I just need to power off (the laptop anyway, I seriously would have trouble breathing without the iPhone…or I at least couldn't sleep, thanks to Sleep Cycle). But really and truly, since I've figured out what the heck a PLN is, I haven't HAD to spend hours and hours searching for the things I used to have to. It comes to me- kind of like magic!
Now, one huge component to my PLN is Twitter. But, since Twitter is blocked in our county right now, I won't say a whole lot about it. What I will talk a little about is using Google Reader.
Way back when I started reading blogs, I remember saving them to my favorites list and taking time to check them every once in a while to see what people were saying. I admit that in those days I was also following blogs of my friends to keep up with what their families were doing or blogs where people would post new recipes and things like that. These days though, following great blogs are a great way to keep up and find new resources without having to put hours and hours into searching for things (which is good to still do sometimes). Once you have found educators or instructional leaders that you can learn from, one of the easiest ways to keep up is to subscribe to new posts in a reader- such as Google Reader. All you have to have is a Google Account, and it is super simple to set up. Once you have your reader set up, all you have to do is make time to read new posts that flow in! For teachers who want new ideas, teaching strategies, and ways to integrate technology but don't have much time- finding good blogs to follow can be a great way to get started! So as you are at home relaxing this summer, take a few minutes to set up your Google Reader and subscribe to a few blogs. You may be surprised at what you find!
Once you've set up your reader, here are 5 great educational technology blogs to get you started:
iLearn Technology
And here are a few of my favorite elementary blogs: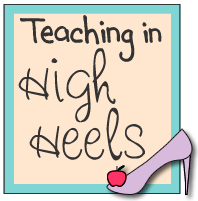 If you want to subscribe to several great elementary blogs, click
here
!